Termite Control in Tulsa, OK
Professional Termite Control in Tulsa
Termites can do serious damage to the foundation of your home. If you notice termites in your home, we strongly suggest that you contact a professional as soon as possible to get the situation inspected and taken care of for you. If you suspect termites, contact the pros at Guardian Angel Exterminating! Leaving a termite infestation unnoticed can cause serious problems, and lead to an increase in the termite population. Our professionals have years of combined experience and use the latest equipment for the best termite treatment solutions.
If you are looking for termite control in Tulsa that truly works, you can count on our team of pest control experts to get rid of termites in your home once and for all! We serve Tulsa, Broken Arrow, and the surrounding areas. Contact us to learn more about what we can do to make your home a better and safer place for you today.
Call us at (918) 205-7150 or contact us online to schedule termite control services in Tulsa!
How We Get Rid of Termites for Good
Our team uses Termidor because it is the best-quality termiticide on the market. We apply the product around the foundation of your home by trenching the soil. In concrete areas, where trenching is not an option, drilling is used to create a strong barrier to keep termites out.
We use this three-step process to eliminate termites:
First, we apply Termidor around the perimeter of your home to eliminate termites and prevent future infestation.
Next, we inject Termidor termite foam into the active areas to treat the inside of the walls and termite tunnels.
Finally, we reinspect annually for termite activity and respray the topsoil to treat new dirt or mulch that has been added to the landscaping.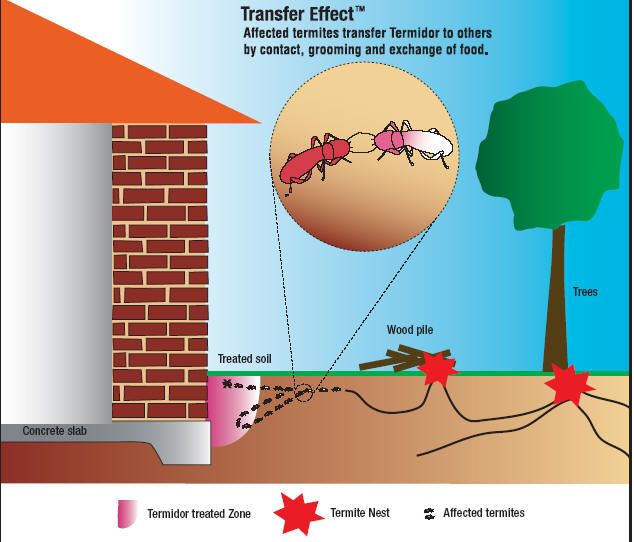 Termite Treatment Solutions in Tulsa
Guardian Angel Exterminating offers the highest quality products and outstanding service for termite pest control in Tulsa. Most pest control companies inspect your home after the initial treatment. We go a step further by applying additional layers of protection with each annual termite inspection. The layers of dirt and soil can change from year to year, either by erosion or when new dirt or mulch is added. Applying a fresh coat ensures your home remains protected against termites and other occasional invaders.
Already scheduled your treatment?
Click here to read over the service agreement that you will be asked to sign on your day of treatment.
If you suspect a problem with termites, call (918) 205-7150 for professional service today!
Testimonials
Learn How We've Helped Our Customers
Strong Company Culture

We are licensed and insured with background-checked and drug-tested staff for our customers' safety.

Satisfaction Guaranteed

We offer a 45-day indoor service guarantee on nearly every pest we treat.

Protection Plans

We offer many ways to keep your home free of pests year-round.

Professional Products

We use the industry's best pest control products. Handling every job with care.

Certified & Trained

Licensed, bonded, and backed by integrity. Providing peace of mind to all customers.