Trelona Bait Systems in Tulsa
Eliminate Termite Colonies with the Most Advanced Baiting System on the Market
At Guardian Angel Exterminating, we are happy to offer Trelona® Bait Systems, which is an advanced termite bait that gives termites a tempting food source contained in purified cellulose-based matrix compressed into tablets. The pest community is attracted to this bait and eventually, more and more termites in the colony will be drawn to it. This is what makes the Trelona system so effective at wiping out colonies of termites.
This is important because termites cause more than $5 billion worth of damage every year in the U.S. alone, and the damage is typically not covered by insurance policies. Guardian Angel Exterminating is proud to swoop in with the most advanced baiting technology on the market and protect your home from this damage. To us, pest control means much more than killing bugs. It means protecting your family, your home, and maintaining one of your most valuable assets for the years to come.
When it comes to protecting your home, it is essential to place your trust in the hands of skilled experts. The use of Trelona ATBS Advance Termite Bait System requires proper placement and regularly scheduled inspections of in-ground stations that contain Trelona compressed termite bait. We will designate a Pest Management Professional (PMP) who will inspect your property and install the in-ground stations.
We will then monitor these stations for evidence of subterranean termite activity. The termites then consume the bait and recruit other termites to do the same, which will spread the bait throughout their population. Termites are social creatures, so even the ones who do not make their way to the bate directly can be impacted by food sharing.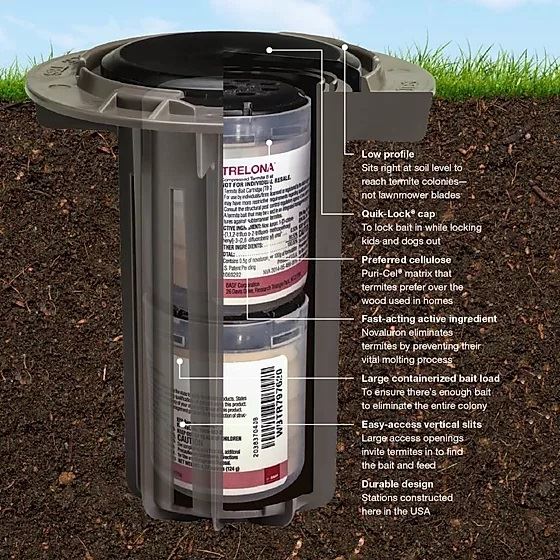 As you can see, there are many reasons to choose Trelona bait systems for nearby termite colonies. Some of the other benefits you will reap from these systems include:
Low profile Sits right at soil level to reach termite colonies—not lawnmower blades
Quick-Lock* cap To lock bait in while locking kids and dogs out
Preferred cellulose Puri-Cel® matrix that termites prefer over the wood used in flames
Fast-acting active ingredient Novaluron eliminates termites by preventing their vital molting process
Large containerized bait load To ensure there's enough bait to eliminate the entire colony
Easy-access vertical slits Large access openings invite termites in to find the bait and feed
Durable design Stations constructed here in the USA
The bigger Trelona ATBS stations are found faster and more easily.
The highly palatable matrix results in faster consumption by termites as compared to other food sources.
You will see faster discovery and continued feeding, which promotes faster control. Through social interaction, termites unknowingly pass the active ingredient onto other females.
The station design allows for ultra-low disturbance of your property and landscaping during routine inspections.
How to Identify a Termite Colony
What many do not realize about termites is that they are actually quite small, a comparable size to ants. Termites can be difficult to detect, especially with an untrained eye. It is more likely that you will be able to spot the signs of termite damage before you spot the termites themselves. If you think you might be dealing with a colony of pests, you will benefit from having a professional like the ones on the team at Guardian Angel Exterminating examine the area to help you choose the best system for your needs. We will look out for concerning signs like maze-like patterns in furniture, floorboards, or walls. At Guardian Angel Exterminating, we will go above and beyond to find the most effective systems to protect your home.
To learn more about the Trelona bait systems in Tulsa, call Guardian Angel Exterminating at (918) 205-7150 or contact us online.
Testimonials
Learn How We've Helped Our Customers
Strong Company Culture

We are licensed and insured with background-checked and drug-tested staff for our customers' safety.

Satisfaction Guaranteed

We offer a 45-day indoor service guarantee on nearly every pest we treat.

Protection Plans

We offer many ways to keep your home free of pests year-round.

Professional Products

We use the industry's best pest control products. Handling every job with care.

Certified & Trained

Licensed, bonded, and backed by integrity. Providing peace of mind to all customers.