What Are Common Causes of Bed Bugs?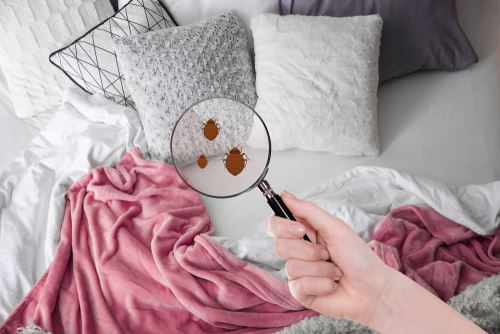 One of the most frustrating questions you can ask yourself is, "How did these nasty little pests get into my home?"
Here are the three common ways:
Used furniture – The most common method that bed bugs will infiltrate your home is through used furniture, secondhand couches, loveseats, and even lazy-boy recliners. With all the trading on Craigslist, one popular way bed bugs find their way into people's homes is through the buying and selling of furniture online.
Guests and visitors –Many of our customers have learned of their bed bug problem after allowing a guest to stay in their home even for a short period of time. Unfortunately, this can go both ways—if you're a visitor in another home or a hotel where bed bugs are hiding, they can piggyback into your residence as well.
Apartment living – Because of the close living quarters of multi-residential buildings, bed bugs have a hidden highway between walls where they can travel from one unit to another. You may not notice this problem until months later, but if you have lived in an apartment in the past six months, that may be where your bed bug problem started.
Whether you have recently visited a hotel with bed bugs or have a friend or family member who is staying over, there are many ways in which bed bugs can infiltrate the privacy of your home. Take a look at what our customers have to say about us, and see why we are the most trusted bed bug exterminating company in all of Tulsa, CA, and beyond.
Bedbug Heat Treatment

$150 OFF Some restrictions may apply; discount applies when paid in full at the time of initial service. Valid with coupon only and cannot be combined with any other offer.

Valid from Dec 1, 2022

- Dec 31, 2023

Print Coupon
Bed Bug Treatment In Tulsa
If you are reading this, it's likely you may already have bed bugs. Tulsa, Broken Arrow, Sand Springs, and the surrounding areas have seen a huge increase in reported cases of bed bugs in the past years. Bed bugs leave behind droppings, which to the human eye look like small black dots on your bed. These dots can normally be found around the corner tufts of your mattress and box spring.
If you have seen these droppings, or if you have found a live bed bug and have cross-referenced it with pictures of live bed bugs on the internet, you have come to the right place! We offer 2 different types of bed bug services: Heat and Chemical treatment. Our commitment to excellence has inspired us to guarantee our bed bug heat treatment for 60 days after the treatment is performed. When the customer hires us to treat for bed bugs with our heat method - we will honor our guarantee to eliminate any future infestation for a 60-day period.
Guardian Angel Exterminating is the top choice when it comes to effective bed bug pest control in the area. No matter the extent of the infestation, we can get rid of them all using safe, reliable solutions. Our team always makes it a point to send all pests to their eternal rest.
Suggested Reading:
---
Peaceful sleep is just a call away! Call (918) 205-7150 or schedule an appointment online for bed bug heat pest control in Tulsa. After making your appointment, see how to prepare for your treatment.
---
Request a Quick Free Quote
Complete the form or call (918) 205-7150 to get one step closer to a Pest-Free Property!
Don't Let the Little Things Bug You Any Longer
While we know our work speaks for itself, don't take it from us - see what our customers say about their experience with our team.
"I've had zero problems with any kind of bugs since they became my regular pest service."

- Jeff Palicia
More Testimonials
Our protection plans are designed to ensure your home stays pest-free all year long! We have a variety of treatment plans to suit your needs.
The Best to Eliminate Pests
Our Team of Pest Control Experts